eBD's Nicole Hansen speaks on the importance of social media to promote international co-productions.
In the 4th Edition of "Producers Without Borders" the Producers Guild of America and The Royal Film Commission of Jordan hosted this discussion in Cannes, bringing together a great group of producers from across the globe. Together, they instructed the audience on how to navigate their way through international co-productions.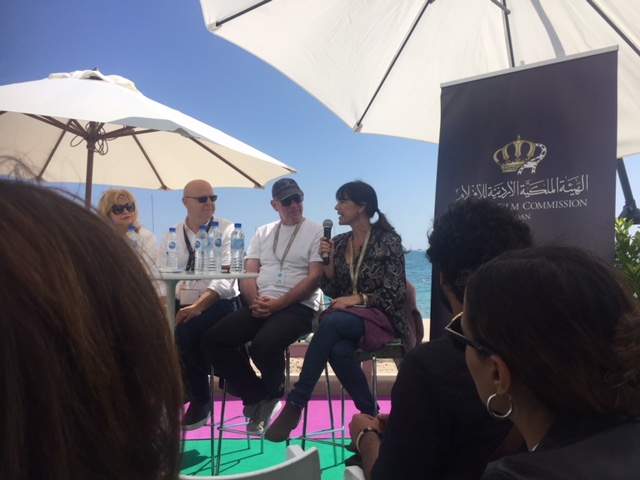 The entire video of the panel was posted on Facebook.
Day 5, May 12, 2018. Please don't forget to call your mom! It's Mother's Day and they deserve all your love:)The 4th Edition of "Producers Without Borders" brought a great group of panelists together to discuss how to navigate your way through an international co-production.Gregoire GensollenDina EmamSalem Brahimi Alison SmallAlexia MelocchiJeff MostGareth WileyNicole HansenThanks to George David for the generous support of The Royal Film Commission in sponsoring the event. Special mentions also go out to our technical team Manoj Annadurai for camera work, George Isaac of the RFC for steady audio, and Justin Cooper for logistics.#producersguild #film #filmjo #rfc #filmjordan

Posted by Kayvan Mashayekh on Sunday, May 13, 2018
Moderator Kayvan Mashayekh with Panelists Gregoire Gensollen, Dina Emam, Salem Brahimi, Alison Small, Alexia Melocchi, Jeff Most, Gareth Wiley, Nicole Hansen
eBrandgelize Digital's Nicole Hansen speaks at, 18:00, 43:00, 48:00 and 52:00 minutes.